13.12.2020
Naturefriends for climate justice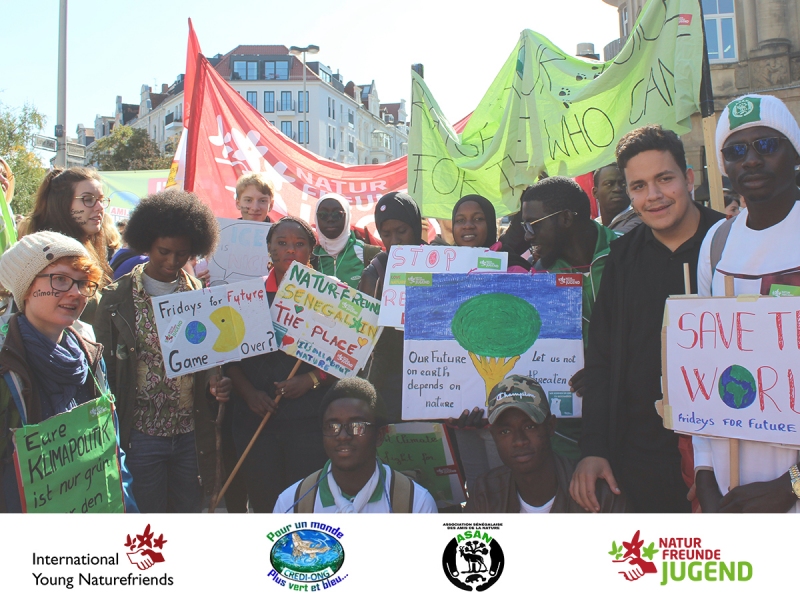 Let's get active for climate justice! As Naturefriends we stand up for solidarity and a sustainable world. To reach that, we need to raise our voice and to formulate concrete demands towards politicians. So come and join our online naturefriends summit, to discuss with us about climate justice and the African-EU-Cooperation.
We want to address concrete demands to politicians and to find ways to bring them out into public. To become loud and effective, we need you!
Basis for our summit are concrete statements formulated by young naturefriends from Benin, Germany and Senegal. In our project – Youth perspective on climate justice in the EU-Africa relations – they already started to raise their voice. In workshops in each country, they formulated demands for global, climate and intergenerational justice and started to discuss them with politicians on different levels. Now they want to invite you to discuss these statements and to gather concrete actions to reach our demands.
The summit will take place online on December 13, 2020 from 16:00 - 19:30 (CET). There will be different workshops ready for you and together we will work on topics and demands regarding social, political and sustainability issues. The workshops are:
Justice and responsibility
In this workshop we will gather ideas for concrete actions to create an equal partnership between Africa and Europe, in which every continent takes over it's responsibility. We will discuss how the interdependences between our continents can be respected and how the fight against climate change combines with human rights and the protection of minorities.
Education
In our recommendations, we've raised education as a top priority for achieving climate justice and fighting against climate change. In this workshop we'll go further discussing the necessary changes of paradigm in current educational systems and painting together the education we want for our generation and for the coming generations.
Cooperation and Partnerships
We need to reinvent the model of cooperation and our forms of partnership by taking into account the challenges of our time regarding climate issues. We all want to move easily around the world and, above all, to break down borders for the mobility of our generation. But what are the results of a mobility without borders regarding the climate? How can we continue to cooperate despite the distances that separate us while at the same time minimizing our climate footprints? These are some of the questions that our workshop will try to discuss in order to highlight some of the contradictions that may exist between our behavior and our desires.
Advocating for sustainability
The UNFCCC Climate Conferences take place every year but what is the role of young people in it? How can we approach politicians? What political action can we as young people do to create visibility? What do we demand when it comes to sustainability and climate justice?
Invited are naturefriends from all over the world. So it is also a good opportunity to meet and connect.
Sounds good? If you want to participate please register here us02web.zoom.us/meeting/register/tZApd-yrqzsuH9DQOFvvPsCqx5dzGefVO_NW

For questions write an eMail to c9a9m9i9l9l9e9.9h9a9m9o9n9Ø9n9a9t9u9r9f9r9e9u9n9d9e9j9u9g9e9n9d9.9d9e9
Then you will receive further information about the workshops and how to join the conference online via the program zoom. The participation is free of charge. The summit will be held in English and French.
The project is part of the "EU Presidency Projekt 2020-2022 - Towards an open, fair and sustainable Europe in the world" which is funded by the European Union and implemented by the Association of German Development and Humanitarian Aid NGOs (VENRO), the Portuguese Non-Governmental Development Organizations Platform (Plataforma Portuguesa das ONGD) the Slovenian NGO Platform for Development, Global Education and Humanitarian Aid (SLOGA), and the European NGO confederation of relief and development (CONCORD).
Veranstaltungsinfos
| | |
| --- | --- |
| Datum: | 13.12.2020 16:00 bis 19:30 |
| Veranstalter: | Naturfreundejugend Deutschlands |
| Preis: | kostenlos |
| Teilnehmer*innen: | maximal 80 |
| Anmerkungen: | If you want to participate please register here us02web.zoom.us/meeting/register/tZApd-yrqzsuH9DQOFvvPsCqx5dzGefVO_NW Then you will receive further information how to join the conference online via the program zoom. |
Tags: online