13.12.2020
Naturefriends for climate justice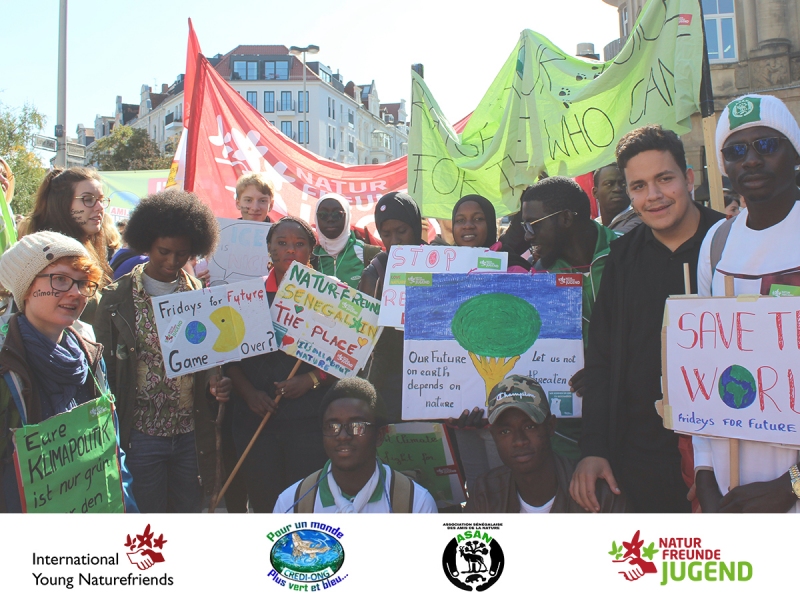 Let's get active for climate justice! As Naturefriends we stand up for solidarity and a sustainable world. To reach that, we need to raise our voice and to formulate concrete demands towards politicians. So come and join our online naturefriends summit, to discuss with us about climate justice and the African-EU-Cooperation.
We want to address concrete demands to politicians and to find ways to bring them out into public. To become loud and effective, we need you!
Basis for our summit are concrete statements formulated by young naturefriends from Benin, Germany and Senegal. In our project – Youth perspective on climate justice in the EU-Africa relations – they already started to raise their voice. In workshops in each country, they formulated demands for global, climate and intergenerational justice and started to discuss them with politicians on different levels. Now they want to invite you to discuss these statements and to gather concrete actions to reach our demands.
The summit will take place online on December 13, 2020 from 16:00 - 19:30 (CET). There will be different workshops ready for you and together we will work on topics and demands regarding social, political and sustainability issues.
Invited are naturefriends from all over the world. So it is also a good opportunity to meet and connect.
Sounds good? If you want to participate just write an eMail to scusausmusiuslusluseus.ushusausmusousnusØusnusaustusuusrusfusruseusuusnusduseusjusuusguseusnusdus.usduseu
Then you will receive further information about the workshops and how to join the conference online via the program zoom. The participation is free of charge. The summit will be held in English and French.
The project is part of the "EU Presidency Projekt 2020-2022 - Towards an open, fair and sustainable Europe in the world" which is funded by the European Union and implemented by the Association of German Development and Humanitarian Aid NGOs (VENRO), the Portuguese Non-Governmental Development Organizations Platform (Plataforma Portuguesa das ONGD) the Slovenian NGO Platform for Development, Global Education and Humanitarian Aid (SLOGA), and the European NGO confederation of relief and development (CONCORD).
Veranstaltungsinfos
Tags: online